Guilford Newcomers Club is:
A women's social and civic organization
Provides Guilford residents with an opportunity to make new friends, socialize, and be a more active part of the community
Members are both longtime residents and those who have recently moved into the community
Membership is diverse- various stages of life (working women, working moms, stay-at-home moms, and "empty nesters.")
Many activities/events are offered throughout the year. There is no pressure to participate.
You may attend as many or as few events as you would like.
Groups/Activites that meet on a regular basis:
Book Clubs
Crafts
Good Eats (Breakfast, Lunch, Dinners out)
Men's Night Out
Playgroups (for children of all ages)
Wine Tasting
Stitch & Bitch (knitting group)
Meals on Wheels
Events that occur throughout the year:
Annual Kickoff & Cocktails
Pot-Luck Dinner
Holiday Celebration
Spa party
Cookie Making
Micro Brewery Night
Pub Night
Auction
Lobster Fest
Our club also supports civic events throughout the year: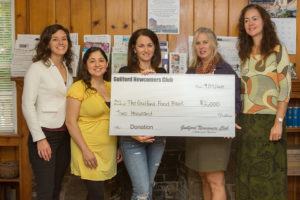 Guilford Food Pantry (Thanksgiving meals)
The Giving Tree (purchasing gifts for families in need)
Local community service organizations
Other Membership Benefits:
The Guilford Greeter     Our monthly e-newsletter is your guidebook to the club's many activities. Access our events calendar.
Membership Directory     An excellent resource filled with contact information of your fellow members as well as listings of useful local businesses.
Interested in attending an Event or joining the Guilford Newcomers Club?
Please "like" the Guilford Newcomers Club Facebook page for updated information!!